Road repair Great Eastern Highway: Tammin and Cunderdin areas. We are still repairing potholes on the Highway and probably will be doing the same next week.
---
History:
More about Tammin:
Tammin is named after the tammar wallaby (now extinct on the mainland) which was the first Australian marsupial sighted by European explorers.
Another first is the large concrete wheat silos in the town, the first of their kind in Australia.
Did you know that a young man from Tammin that went to Northam Senior High School named Leonard William Frearson became a Rhodes Scholar in 1947.
And just outside of town is Tammin Well. Constructed in 1865 by Charles Cooke Hunt (1833 to 1868)  passed by the area a number of times on his explorations out from York. It was once used as a watering point for prospectors and others en route to the Goldfields.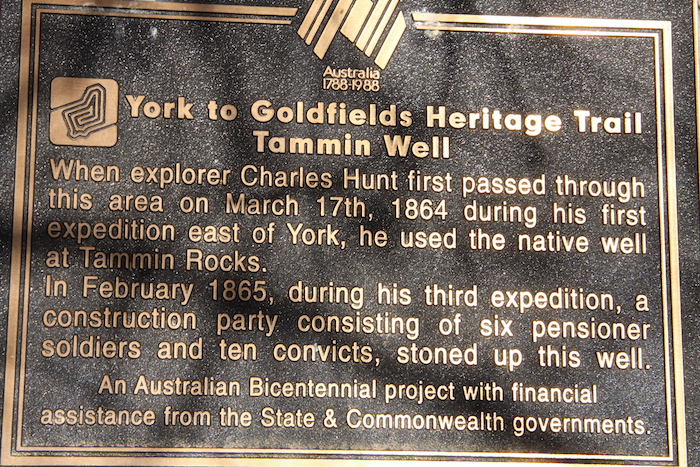 ---
C. C. Hunt  was born in England in 1833,  and died in Geraldton on 1st March 1868, Aged 35 Years.
Surveyor, Draftsman, Explorer
Hunt Made Four Notable Journeys Of Exploration
Using The Tammin Well Each Time.
1864 – Hunt Explored Country East Of York, Discovered Hampton Plains
1864 – Koolyanobbing Expedition
1865 – Hunt Surveyed And Cleared Track, Now The Old Goldfields Road, Between York And The Present Kalgoorlie District.  He Constructed Wells And Soaks For Pastoralists Along The Route.
1866 – Hunt's Longest Journey North Of Kurnalpi And South Of Lake Lefroy Made In Search Of Rich Pastoral Country.
---
The Watering Places, Including Hunt's Well And Tammin Tank, Were Inestimable Value During The Goldrush Days.
---
Hunt also appears to be unlucky, not only did he die at an early age he also missed out on this: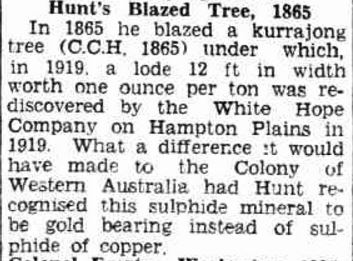 ---