Road repair Northam-Pithara Rd
Resurfacing the road out at Kondut.
---
Early morning out at Kondut with the forecast of rain.
This ended up looking like:
This…
One of the largest rainbows I have ever seen. I think the early morning sun and the rain off into the distance had something to do with it.
---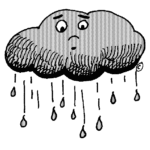 Did I mention the rain… We managed to get half way through the job and it bucketed down. So it looks like we will be back tomorrow.
---
On a sadder note, when we got back to the depot after the job out at Kondut was called off, we were sent out to do a road closure on Spencers Brook Road in Mokine, where a car collided with a tree. This allowed the Police, Ambulance and Rescue service to do their job. Unfortunately, one person was killed and another sustained serious injuries.
Please remember to switch headlights on, ensure a safe braking distance and allow extra travel time during wet weather.
Condolences go out to the families and friends of the person killed and let's hope for a speedy recovery for the person who was injured.
A big thank you to the general public for their patience and understanding during the road closure and to those involved with the rescue.
---