Flowcon road edging Calingiri Rd, Old Plains.
---
Flowcon road edging involves laying a strip of bitumen along the road edge to protect the road.
---
Farmers are doing it tough in these parts, more rain is required for the crops to grow.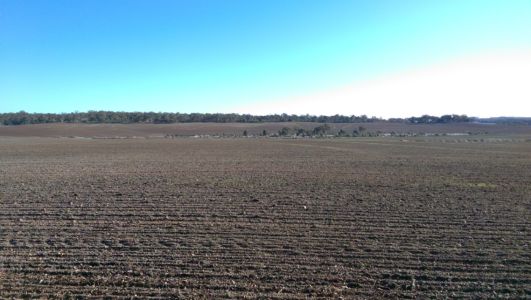 ---
Alongside the road, I found a trail marker.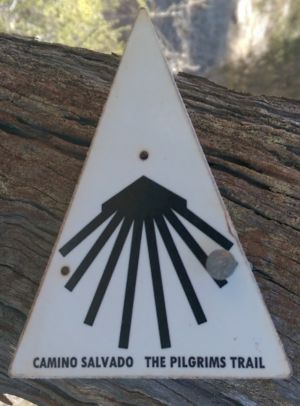 This trail marker forms part of the Camino Salvado Pilgrim Trail. The trail was established and inspired by Fra Rosendo Salvado, a Spanish Benedictine who came to serve the Indigenous people in the early Swan River Settlement in 1846. The trail starts in Perth and ends at the New Norcia monastery 185 kilometres away, for further information click Here…
---
Prevalent along this part of the road are stands of eucalyptus capillosa, commonly known as white gum or wandoo.   It has smooth bark, often in mottled patches of white, light grey, light brown light yellow and pink. Old layers of bark come off in flakes, and it is not uncommon for a few flakes to persist on the trunk for a long time.
The wood of this species is extremely dense, and is used for a range of heavy-duty construction purposes, including as railway sleepers and wood flooring. There was once an industry in the extraction of tannin from the bark and wood. These days the wood is not much available, as the wandoo forests are preserved for recreation and watershed protection. Wandoo is also famous for the honey produced from its nectar.